As the leaves change to bright shades of orange, red, and brown, and the aroma of pumpkin spice wafts through the air, it becomes the perfect backdrop to create memories with our four-legged friends, especially with our regal Chow Chows. For Chow Chow owners, this season isn't just about the change in weather – it's an open invitation to embark on unforgettable autumnal adventures.
1. Halloween Dress-Up: All About the Chow!
Chow Chows and their big, fluffy coats are just waiting to join in on Halloween fun. Imagine them dressed up, walking by your side, catching everyone's attention. Whether it's a spooky ghost or a regal lion, your Chow Chow can pull it off. Halloween isn't just for us; let's make it memorable for our furry pals too!
Spooky Spider: Attach some flexible, furry legs on either side of your Chow. Maybe even a

Halloween style lead

for the full effect?
Pumpkin Pup: An orange coat, a green leafy collar, and you've got yourself a four-legged pumpkin, only fluffier!
Ghoulish Ghost: A light, airy sheet with cut-outs for the eyes and nose can turn your Chow into the cutest phantom you've ever seen.
2. Playtime: Autumn Edition
As the weather changes, our dogs still need stimulation and exercise. By adapting and finding new ways to play indoors, we ensure they're happy, healthy, and ready to enjoy the season with us!
Seasonal Soft Toys: Whether it's leaf-shaped plushies, pumpkin toys, or even quirky

spider toys

, these bring the essence of autumn right to your living room. They're not only cute but also provide a slice of the outdoors for indoor play.
Tug-of-War Fun: Amp up this classic game with autumn-inspired tug of war toys. Whether it's ropes that mimic Halloween characters or other seasonal designs, your Chow Chow is sure to have a blast pulling and tugging.
Brain-Boosting Puzzles: It's not all about physical play. Engage their minds with puzzles tailored for dogs. It keeps their brain sharp and offers a good distraction, especially on those rainy days.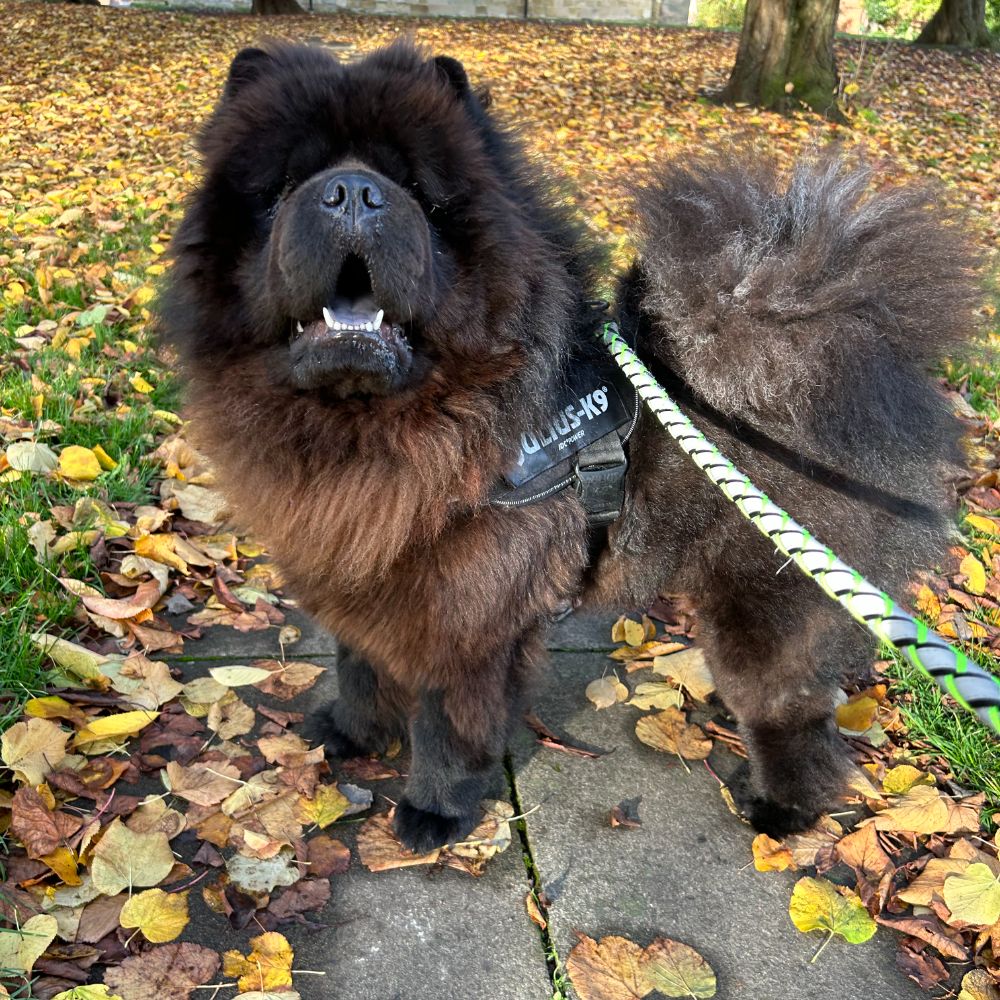 3. Out and About: Fall Days with Your Chow
Embracing the autumn season with your Chow Chow isn't limited to indoor activities. In fact, the great outdoors during Autumn offers a rich palette of experiences that both you and your furry friend can enjoy.
Nature Walks: Take advantage of the cool weather and go for longer strolls with your Chow. Whether it's exploring new paths, playing fetch among the fallen leaves, or meeting other furry friends along the way, each walk becomes a special memory. Plus, those brisk mornings might get your Chow extra excited for some fun outdoor play!
Pumpkin Patches: Imagine your Chow amidst a sea of pumpkins – sounds like the perfect photo opportunity, right? It's more than just picking out the ideal pumpkin; it's about the fun journey of roaming around, sniffing, and maybe even selecting their own 'Chow-approved' pumpkin.
Local Farmers Markets: Autumn is harvest season! Many local farmers markets set up shop with fresh produce, homemade treats, and more. It's a sensory treat for your Chow – so many new scents to explore. Plus, you might just find a dog treat stall or two.
4. Autumn Dog Treats
Homemade Goodies: Embrace the spirit of the season by getting creative in the kitchen. Try your hand at making homemade dog treats using seasonal recipes you find online. Making treats from scratch allows you to control the ingredients and cater to your Chow's preferences. Plus, it's a fun activity that can even turn into a weekly ritual. You bake, they taste-test – sounds like a win-win!
Shop Visits: Head over to your local pet store for a fun outing. Let your Chow explore and maybe even pick out a treat or two. With autumn on its way, stores might have a range of seasonal products. While there, you can also check out any new toys or accessories, making the trip a wholesome Autumn shopping experience.
Seasonal Specials: Autumn isn't just about vibrant leaves; it's also a time when many brands roll out seasonal goodies for our furry friends. Keep an eye out for special autumn-themed treats to let your Chow partake in the seasonal joys.
Always check the ingredients of any treats you make/buy to ensure they're safe for Chows. If you're ever uncertain about a product or ingredient, always consult your vet.